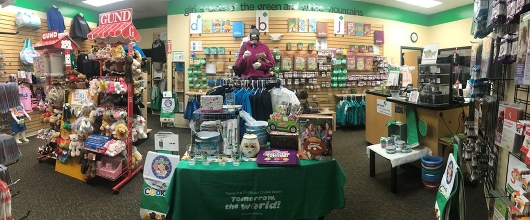 Mountain Top Shop
To make sure your Girl Scout is prepared, there are many ways you can shop for Girl Scout uniforms, recognitions, gifts and more. Shop online 24/7.
---
Or visit one of our conveniently located shops!
---
Bedford, NH Corporate Office
1 Commerce Drive, Bedford, NH
Telephone: 888.474.9686 x4140
Fax: 603.627.4169

Bedford Store Hours:
8:30 am – 5:00 pm
Monday – Friday

Click here for directions.
Williston, VT Service Center
60 Knight Lane, Williston, VT.
Telephone: 888.474.9686
Williston Store Hours:
Monday - Friday 9 am - 4:30 pm
Closed daily from 1 pm -1:30 pm

Click here for directions.
Product of the Month!
Ready! Set! Cookie Cart!
Our newest Mountain Top Shop staff members Kathy and Susan sport this handy Cookie Cart! This holds approximately 3 cases of cookies! It has 2 side zippers, 3 extra pockets on the left side, a large backside pocket, an inside zip pocket on top flap and a back pocket too! Available at both Bedford and Williston Mountain Top Shop locations.
Cookie Cart is 21"H x 14"W x 8"D.
$40.00
---
To Order By Mail:
Complete an order form showing the items you wish to purchase (all items excluding earned recognitions and gift cards).  Mail it, along with your Cookie Dough Card Account number to Girl Scouts of the Green and White Mountains, The Mountain Top Shop, PO Box 10832, Bedford, NH 03110-0832. 
 
Your purchase will be deducted from your Cookie Dough Card and updated in our system.
GSGWM Store Shipping Charges
Return Policy
Returns are accepted for
STORE CREDIT ONLY.
Returns or exchanges must be requested within thirty (30) days of purchase and the original sales receipt must be presented.
No returns on hats or hosiery unless defective.
Items purchased with Cookie Dough may not be returned - they may be exchanged for other Cookie Dough approved items. No form of credit will be issued for Cookie Dough items.
NO CASH REFUNDS.