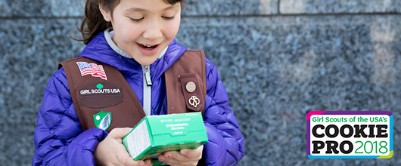 Get ready to enter our national Girl Scout Cookie Pro Contest 2018 to unlock an awesome, limited-edition Cookie Pro 2018 patch and the chance to travel to New York City for an all-expenses-paid Cookie Entrepreneur Experience, including a chance to have your smiling face featured on the Girl Scout Cookie box—SWEET.
Continue >

Girl Scouts of the Green and White Mountains will proudly host the annual Global Leadership Conference (formerly called the Senior Leadership Conference) at Salve Regina University in Rhode Island next March. The event, for Girl Scouts in grades 10-12, aims to bring Girl Scouts throughout the region together for a weekend of fun, friends, and to hold in-depth discussions on a variety of topics, led by professional women in the field.
Continue >



Why Girl-Led Girl Scout Programming Matters
17 Oct 2017
In the wake of last Wednesday's announcement from the Boy Scouts of America regarding a change of policy to allow girls into the program, Girl Scouts of the Green and White Mountains remains committed to providing girl-led, girl-centered programming for girls throughout New Hampshire and Vermont.