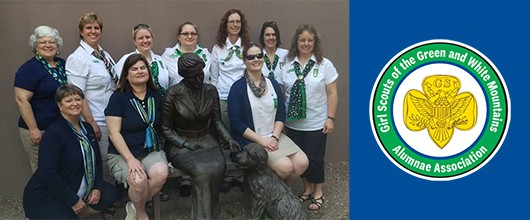 Alumnae
Once a Girl Scout, always a Girl Scout

As a Girl Scout, you hiked trails and camped out under the stars. You canvassed your neighborhood to sell Trefoils and Thin Mints. You honed your skills with each badge you earned. You learned to lead. And you built lifelong friendships.
Are you a woman or a man that was a troop leader, volunteer, or staff member? If so, you are part of the Girl Scout Alumnae network! Each of us has a success story to tell and memories to share. And all of us are looking to reconnect with old friends, while finding a way to support this generation of girls. View the Alumnae Impact Study at the link below.
---
Join Our Alumnae Association
Complete our GSGWM Alumnae Contact Form, and tell us how you'd like to be involved. We'll help you reconnect.
Lakes and Mountains Green Hat Society
The Lakes and Mountains Green Hat Society's purpose is to provide adult Girl Scout fun for Girl Scout adults 25 and older. Our duty is to pass along Girl Scout traditions to girls and volunteers, and to help promote Girl Scouting wherever we can. For more information, please contact Customer Care.
We're also developing three additional groups focusing on Travel, Camp/Encampments, and Adult Education. If you are interested in joining any of these groups, let us know via the GSGWM Alumnae Contact Form.​
Girl Scouts of the United States Alumnae Association
Click the picture below to register with the GSUSA Girl Scouts Alumnae Association.