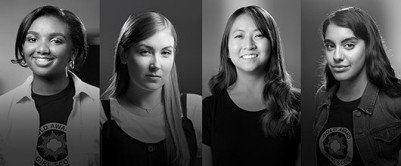 When it comes to changing the world, Gold Award Girl Scouts take the lead. Meet 10 extraordinary girls who possess the passion and the grit it takes to become a Gold Award Girl Scout. Each tackled an issue in her community and created a solution that brought lasting change to the world. Watch and you'll see why the Girl Scout Gold Award is the mark of the truly remarkable.
Continue >

Girl Scout Junior Jam teaches STEM skills and more
06 Nov 2019
Girl Scouts of the USA is committed to adding 2.5 million girls to the STEM pipeline, and in what is expected to be an annual event, 80 Girl Scouts and 31 adult volunteers became part of that drive at the Junior Jam held at Sanborn Regional High School on Saturday, Nov. 2.
Jaime Robinson earns Girl Scout Gold Award
05 Nov 2019
Addressing the seemingly intractable problem of homelessness, Jaime Robinson of Derry took on the challenge to provide those in need with clothing, toiletries, school supplies, and more. Her project, called REACH (Respect, Encourage, Assist, Care, Hope) has earned her the Girl Scout Gold Award.