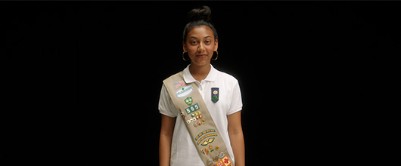 Whether your girl is part artist, part scientist, or part explorer, Girl Scouts is where she can pursue what she loves and blaze new trails. Here, girls take on leadership roles in a girl-led space and develop skills they'll use to make an impact. Watch the new video to see current Girl Scouts show the world they know who they are and what they're made of—they're all Girl Scout! 
Continue >

Girls and their families enjoy STEM, outdoors, cooking, performances and more at the G.I.R.L. Expo NH
15 Oct 2018
They climbed, they created desserts, they drove underwater water robots, they baked bread, they tried out pottery, they saw how a machine can print live cells, they saw the night sky in a planetarium, they drummed and danced – girls and their families had a great time at the G.I.R.L. Expo New Hampshire: Everything Exciting for Girls at the NH Sportsplex in Bedford on Saturday, Oct. 13.