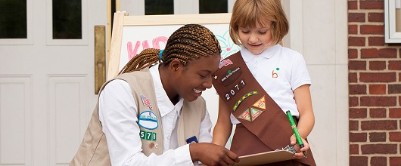 Girls are first at Girl Scouts. And they always will be. Girl Scouts is her home turf, her go-to place where she's free to try new things and just be herself, no matter what her interests are. And now there's even more to explore, with new badges in robotics, outdoor adventuring, cybersecurity, and environmental stewardship—to name just a few! Join or volunteer today, and give her the tools to shine!
Continue >

Girls and their families enjoy STEM, outdoors, cooking, performances and more at the G.I.R.L. Expo NH
15 Oct 2018
They climbed, they created desserts, they drove underwater water robots, they baked bread, they tried out pottery, they saw how a machine can print live cells, they saw the night sky in a planetarium, they drummed and danced – girls and their families had a great time at the G.I.R.L. Expo New Hampshire: Everything Exciting for Girls at the NH Sportsplex in Bedford on Saturday, Oct. 13.
Girl Scouts learn to lead at the State House
10 Oct 2018
Ending school violence, stopping pollution, and creating peace in the world were just a few of the issues 41 Girl Scouts "campaigned" on as part of their experience at the Girl Scout Learn to Lead Legislative Day at the New Hampshire State House on Oct. 5.
Online or on the street, Girl Scout Safety Event teaches skills
02 Oct 2018
The message was clear: You're never too young to say, loudly, "No! Get away! Leave me alone!" And that message, along with many other safety tips, was taught to Girl Scouts of all ages at the Safety Event organized by Girl Scouts on Sept. 29 and held at Sanborn Regional High School.