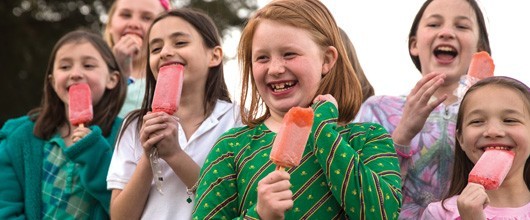 Meet Us Virtually
These are unprecedented times, and we know families like yours are looking for ways to bring optimism, joy, and purpose to each day during the coronavirus (COVID-19) pandemic. Whether or not you're familiar with us at Girl Scouts, we're here for you and your family.
We would love to share more about our virtual Girl Scout activities that your girl can enjoy at home now, and also share more information to consider about becoming a Girl Scout in the future. We're hosting regular virtual Open House information sessions for New Hampshire and Vermont families. Please select a date that works for you and register below.
Make New Friends Virtual Series
Make New Friends is a 4-Part virtual series that provides opportunities to girls to strengthen four competencies as they enter kindergarten. This series allows her to connect with the same friends each week, as well as Girl Scouts staff and volunteers who lead her through sessions around language & literacy, cognition, approaches to learning, and social and emotional learning.
Daisy Virtual Open House
Whether your girl is already in Kindergarten or getting ready to start in the fall, Girl Scouts is there to help expand her world outside of school, try new and exciting things, unleashing her imagination. Join us and other girls from all over NH and VT to learn more.
Saturday, July 4, 10:00-11:00 am

Saturday, July 11, 10:00-11:00 am
Saturday, July 18, 10:00-11:00 am
Saturday, July 25, 10:00-11:00 am
Saturday, August 1, 10:00-11:00 am
Saturday, August 8, 10:00-11:00 am
Saturday, August 15, 10:00-11:00 am
Saturday, August 22, 10:00-11:00 am
Saturday, August 29, 10:00-11:00 am