My Digital Cookie Platform
With the Digital Cookie™ platform, the Girl Scout Cookie Program you know and love is better than ever. Fun, easy-to-use tools help you superpower your sale and go beyond the booth with online and mobile channels that make it easy for cookie fans near and far to support your sale and, ultimately, your success.
You get more ways to participate, more ways to sell, more ways to buy, and more ways to learn—nice! And guess what? Girls who used the platform in addition to traditional sales, sold more cookies and reached their goals faster—so amazing.
Plus, on your very own personalized cookie site, you can play interactive games, watch videos, enjoy printable activities, take fun quizzes, and do even more—all while taking your cookie sale to the next level.
Excited to jump in? Check your email for a welcome letter and instructions to login. Contact Customer Care at customercare@girlscoutsgwm.org if you need assistance.

MORE SALES WITH GIRL DELIVERY!
Your Digital Cookie customers can choose to have their orders shipped, OR have you deliver them! Customers will love being able to shop at their leisure and pay by credit card. Girl Delivery is an option from the start of the sale until one week before the sale concludes..

1. Parents will approve all girl-delivery Digital Cookie orders. Approval must be within 5 days of the customer's transaction.  
2. Digital Cookie girl-delivery orders are automatically added to the Initial Order period. After the Initial Order period, leaders will need to acquire and issue cookies to the girl in our database.   
3. That means girl-delivered digital orders for the Initial Order will arrive on your delivery day in February. For the direct sale, contact your leader to arrange for acquiring packages for all other girl delivery orders. 
4. When you deliver, remember those orders are already paid. Easy!

---
Digital Cookie is available throughout the entire program, December 26, 2022 - March 19, 2023. Girl-delivered and donated cookie orders may be processed for the entire season. Girl Scout Cookie customers may begin ordering cookies through a Girl Scout's Digital Cookie site for shipping beginning February 27. View the shipping rates here. 
Take Your Girl Scout Cookie Business
On The Go With
The Digital Cookie Mobile App!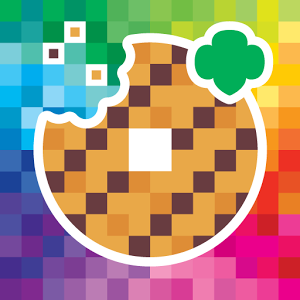 Your Digital Cookie Mobile App brings your
Girl Scout Cookie Sale with you wherever you go!
Connect this app right to your Digital Cookie site and give your customers an even easier way to purchase cookies.
Once you've set up your personalized cookie site on the Digital Cookie™ platform, download the Mobile App to supercharge your Girl Scout Cookie Business.
Let customers easily order their favorite Girl Scout Cookies.
Take orders on your website or in person with the app.
Get important safety advice and cool cookie-selling tips.
Accept credit card payments. It's so easy!
OCR technology makes credit card payments even more contactless and super simple!
You can also use the app to check your progress, and share your site URL via email. Remember: share with cookie customers you and your family know, or on private or monitored social media sites.

It's free to download the Digital Cookie Mobile App!