My Digital Cookie Platform
With the Digital Cookie™ platform, the Girl Scout Cookie Program you know and love is better than ever. Fun, easy-to-use tools help you superpower your sale and go beyond the booth with online and mobile channels that make it easy for cookie fans near and far to support your sale and, ultimately, your success.
You get more ways to participate, more ways to sell, more ways to buy, and more ways to learn—nice! And guess what? Girls who used the platform in addition to traditional sales, sold more cookies and reached their goals faster—so amazing.
Plus, on your very own personalized cookie site, you can play interactive games, watch videos, enjoy printable activities, take fun quizzes, and do even more—all while taking your cookie sale to the next level.
Excited to jump in? More information about DOC will be available shortly.

GIRL DELIVERY IS BACK!
During the Initial Order period, your DOC customers can choose to have their orders shipped, OR have you deliver them! Customers will love being able to shop at their leisure and pay by credit card.
1. Your parents will approve each of your girl-delivery DOC orders. Track those orders on your DOC card.
2. Give these orders to your leader with your Initial Order Card. Leaders, enter both initial order and DOC girl-delivery cards in eBudde.
3. You'll receive your Girl Delivery Digital Orders with your Initial Orders in February. When you deliver, remember those orders are already paid. Easy!

---
Take Your Girl Scout Cookie Business
On The Go With
The Digital Cookie Mobile App!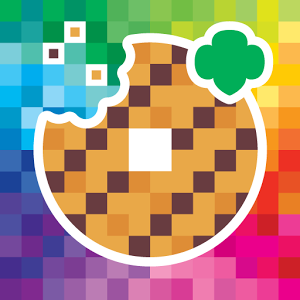 Your Digital Cookie Mobile App brings your
Girl Scout Cookie Sale with you wherever you go!
Connect this app right to your Digital Cookie site and give your customers an even easier way to purchase cookies.
Once you've set up your personalized cookie site on the Digital Cookie™ platform, download the Mobile App to supercharge your Girl Scout Cookie Business.
Let customers easily order their favorite Girl Scout Cookies.
Take orders on your website or in person with the app.
Get important safety advice and cool cookie-selling tips.
Accept credit card payments. It's so easy!
You can also use the app to check your progress, and share your site URL via email. Remenber: only share with cookie customers you and your family know - safety first!

Share your site with relatives, friends, and trusted contacts.
Track your goals, get safety tips, find selling pointers.
Take orders, accept credit card payments, and more!
Download the Digital Cookie Mobile App!


Digital Cookie is made possible by Dell. 
---