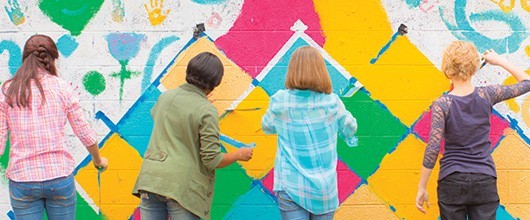 Other Ways to Give
Matching Gifts
More than 17,000 companies nationwide offer Employer Matching Gift Programs, doubling or even tripling the impact of gifts made to Girl Scouts by their employees. Does yours?
Your current or former employer may amplify your individual support! If you are still employed, your employer can benefit through unrestricted tax-deductible contributions. Retired workers can also contribute to their former company's charitable efforts. Inquire with your company's Human Resources office to find your employer's relevant forms and set up your matching gift.
---
Gift of Securities
Gifts of appreciated publicly traded securities that you have held for longer than 12 months allow you to claim a charitable deduction for the full market value of the securities on the date the gift is made while avoiding tax on the capital gain.
Please contact advancement@girlscoutsgwm.org or 888-474-9686 securities gift instructions.
---
Charitable Gift Annuity
There's a way for you to support Girl Scouts and feel confident that you have dependable income in your retirement years. You can do this with a charitable gift annuity (CGA). A CGA involves a simple contract between you and GSGWM where you agree to make a gift to GSGWM and we, in return, agree to pay you (and someone else, if you choose) a fixed amount each year for the rest of your life.
This type of donation can provide you with regular payments and allow us to further our work for girls. You can also qualify for a variety of tax benefits, including a federal income tax charitable deduction if you itemize.
Contact the Advancement Department at advancement@girlscoutsgwm.org or 888-474-9686 for additional information on charitable gift annuities or to chat more about the personal benefits of creating an annuity with GSGWM.
---
In Honor or In Memory Giving
A gift in honor or memory is a meaningful tribute to the individual and to Girl Scouts. Whether celebrating an anniversary, a birthday, a special occasion, or a life well-lived, we gratefully accept the gifts made in honor and memory of others and we promise to use them well. On our honor.
New Hampshire License Plate Decals
New Hampshire residents can now show their love for Girl Scouts with our Girl Scouts of the Green and White Mountains license plate decal.
Here's how:
Obtain a Decal License Plate from your town clerk. Decal plates cost an extra $15 annually. Like any other new license plates, new decal plates also incur a one-time new plate fee of $8.
Get a set of decals from Girl Scouts of the Green and White Mountains. Decals cost a one-time fee of $25, payable directly to the Girl Scouts of the Green and White Mountains with all proceeds going to support our work. (This $25 covers the life of the stickers; however, if you get new license plates or your stickers wear out over time, you'll need to buy a new set.) You can get your stickers at the Bedford Mountain Top Shop (during their regular business hours) or online.
Important note: You must have a "decal" license plate for these stickers. Unfortunately, these stickers cannot be used with a "moose" or "state park" or other license plate type.

Stick your decals on your new license plates and be the envy of all your friends!
---
Everyday Ways to Help Girls


Shop on AmazonSmile
Did you know you can support GSGWM every time you shop on Amazon when you pick Girl Scouts of the Green and White Mountains on AmazonSmile?  Every time you make an eligible purchase, the AmazonSmile Foundation will donate 0.5% of the purchase price to us! 
AmazonSmile customers can now support Girl Scouts of the Green and White Mountains in the Amazon shopping app on iOS and Android mobile phones! Simply follow these instructions to turn on AmazonSmile and start generating donations.
Open the Amazon Shopping app on your device
Go into the main menu of the Amazon Shopping app and tap into 'Settings'
Tap 'AmazonSmile' and follow the on-screen instructions to complete the process
Facebook Fundraisers

Want to do some good while you're checking your social media accounts? Create a fundraiser on Facebook and share it with your friends. Here are some tips to setting up your fundraiser for GSGWM.
Quick and easy steps to launch a Facebook fundraising campaign to support GSGWM.
Log into Facebook and click on "Home" at the top of the page. Look to the panel on the left below your name under "Explore" and scroll down to "Fundraisers".
Click on "Fundraisers" and it will launch you to a page to create a fundraiser. Choose the "Raise money for a nonprofit" option by clicking on "Select Nonprofit".
Type in Girl Scouts of the Green and White Mountains and click on us when you see us.
The next box is "Let's start with the basics" where you set a fundraising goal. Pick a goal you think is achievable but still a bit of a challenge. Pick a date for your fundraiser to end. We recommend a least a week and no more than a month. Two weeks works pretty well!
Next you'll be asked to select a picture for your fundraiser. You may have one you'd like to use but don't worry if you don't! There will be options for you to choose from the GSGWM photo gallery as well.
Next you will publish your fundraiser and invite friends and family to give. Facebook will encourage you to make the first gift. You don't have to but even making a small starter gift is a really great way to give your fundraiser some good starting momentum!
Facebook distributes contributions quarterly. When GSGWM receives them, we send a thank you note to your donors and to YOU!
If you have questions or needs ideas, contact customercare@girlscoutsgwm.org and THANKS!
Volunteer with GSGWM
Volunteer grants are corporate giving programs that encourage volunteerism in communities where employees live and work. Through these programs, companies provide monetary grants to organizations where employees regularly volunteer. Check here to see if your company provides grants for your volunteerism.
Reward Volunteers is Cabot Creamery Cooperative's program to recognize volunteers and the organizations they serve. Log your Girl Scout volunteer hours at rewardvolunteers.coop and earn prizes for you and contributions for GSGWM!
---
Donate Your Vehicle
Donate your car, boat, truck, RV, Jet Ski, or snowmobile to the Girl Scouts of the Green and White Mountains and receive a tax deduction at no cost to you.  Contact our fundraising partner, Donation Line LLC at 877-227-7487 and use our extension 2723. You must have a title in hand when you donate.
---