Chloe Hall and Colleen Bartel collected and filled 128 backpacks to donate. (Courtesy photo)
STRATHAM, NH – Girl Scouts work to make the world a better place, and two Stratham teens have definitely made the world better for children by collecting, filling, and donating 128 backpacks full of school supplies.
Girl Scouts Chloe Hall and Colleen Bartel, both 14, are part of Troop 10228. They are well on their way to earning their Girl Scout Silver Award, the highest honor available to Girl Scouts in grades 6-8, for their hard work. As ninth-graders, the girls are now Girl Scout Seniors, the level for girls in grades 9 and 10.
Chloe said she and Colleen thought there would be a need for school supplies, and contacted End 68 Hours of Hunger to see if they could help. The organization provides food and more to children, responding to the need for helping children who are food insecure between Friday afternoon and Monday morning when they are not in school.
"We thought the need for school supplies would be much less that what it actually was," Colleen said. "We were initially hoping to get together 50 backpacks, but when we contacted End 68 Hour of Hunger, we found out that we needed 128 backpacks."
The girls' mothers helped by sewing face masks, further benefitting the community. Chloe and Colleen talked to a lot of people and posted on social media to ask for supply donations. They also set up drop-off locations for school supplies that the girls checked almost daily.
"The most challenging thing about this project was organizing the donations because there were so many!" said Colleen.
Both girls learned a lot, gaining new skills in leadership, communication, organizational skills, and time management – all part of earning their Girl Scout Silver Award.
"Doing the Silver Award was an amazing experience, and even though we didn't get to see the kids' faces as they opened up a backpack full of supplies, it was worth it to put in the time and effort, knowing that we helped somebody," Colleen said.
Chloe agreed. "When going into this project, I didn't think we would get nearly as much done as we did. I didn't think we would have 128 backpacks. I am impressed with how much we accomplished!"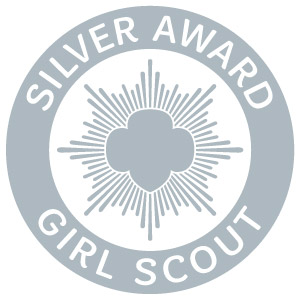 Silver Award Girl Scouts don't just change the world for the better, they change it for good. The Silver Award is earned by girls in grades 6-8 who flex their leadership muscles by doing research and taking action on issues of their choice. Through their commitment to their communities, girls gain confidence and skills that will catapult them to Gold Award success—all while creating positive change.
---
About Girl Scouts of the Green and White Mountains: Girl Scouts of the Green and White Mountains is recognized throughout New Hampshire and Vermont as a leading expert on girls. Our Girl Scout Leadership Experience is a one-of-a-kind leadership development program for girls, with proven results. It is based on time-tested methods and research-backed programming that helps girls take the lead—in their own lives and in the world. Through our exciting and challenging programs, Girl Scouts not only participate but also take the lead in a range of activities—from kayaking, archery, and camping, to coding, robotics, financial literacy training, and beyond! Serving more than 10,000 girls throughout New Hampshire and Vermont, girls discover the fun, friendship, and power of girls together. Visit www.girlscoutsgwm.org.