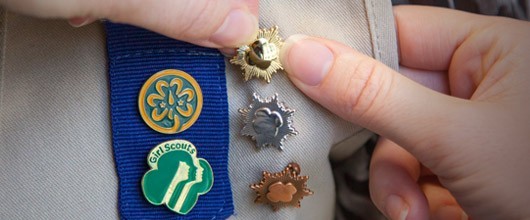 Highest Awards
Every Girl Scout goes above and beyond to make a difference in her community and the greater world. The skills and experiences she gains along the way set her up for special recognition through the Gold, Silver, and Bronze Awards.
All three awards give girls the chance to do big things while supporting issues they care about.
The deadline to hand in highest award paperwork by bridging and graduating Girl Scouts has been extended to December 15, 2020.
Girl Scouts who are not bridging to the next level or have not recently graduated will have until September 30, 2020, after their 5th grade year for the Bronze Award, their 8th grade year for the Silver Award, and after their senior year of high school for the Gold Award.
All girls who wish to attend the Young Women of Distinction ceremony for highest award recipients on October 18, 2020, must submit their paperwork by September 15, 2020. As an incentive, girls who both turn in their paperwork by September 15 AND attend the ceremony on October 18 will receive their highest award pin at no cost.
As you earn one of Girl Scouts' highest awards, you'll change your corner of the world—and beyond. The possibilities are endless.
For information about Silver and Bronze Award Financing, click for this Fact Sheet. For information about Gold Award Financing, click for this Fact Sheet.