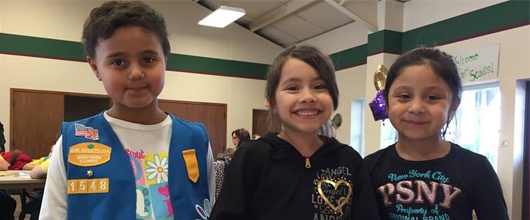 Adult Learning Course Descriptions
Our Council provides quality courses conducted by skilled and enthusiastic volunteer facilitators. Our volunteer facilitators are eager to assist you. Take advantage of as many courses as you can. The courses you take as an adult volunteer will assist you in providing the best growth experiences for girls. Join other volunteers for fun and learning! Choose from Troop FUNdamentals, First Aid, and so much more! The volunteer application process, including criminal background check and training, must be completed before meeting with girls.
Girl Scouts of the Green and White Mountains reserves the right to cancel courses if the facilitator is ill or unable to make the course (remember, our facilitators are volunteers, too) or in the event of inclement weather.

Check our Calendar to find when a course will be offered. Click the listing on the date to register.

---
Troop Leader Basics
To learn more about any of these courses or to register, click on the course title in the menu at the left.

Girl Scouting 101 for all volunteers (required)
After returning a volunteer application and criminal background check, all volunteers must take this on-line course. It is an orientation to the Girl Scout basics, ways to participate, what Girl Scouts do, and more.  Password = aboutGS101 – case sensitive.  This is available online at any time HERE.

Volunteer Essentials
Prerequisite: Girl Scouting 101
For adult volunteers, a welcome to your community.  This course is done locally in your community by the Community Learning Coordinator.  The course covers information about your community, as well as Council policies, guidelines, resources & contacts. Click HERE to download the guide and HERE for a copy of the Council Policies and Procedures for Volunteers.

Troop FUNdamentals
Prerequisite: Girl Scouting 101 and Volunteer Essentials
This course provides an in-depth focus on delivering girls the Girl Scout Leadership Experience – the outcomes/benefits we are striving to achieve for girls and the processes that best achieve those outcomes. Troop FUNdamentals also covers the roles and responsibilities of the Girl Scout leader, methods of obtaining parent and guardian support, important elements of group meetings, girl and adult planning, finances, how to evaluate with girls and crisis and risk management.  Register HERE.

CPR/First Aid
These courses provide lifesaving skills. For upcoming training, click our Calendar or contact customercare@girlscoutsgwm.org
---
Outdoor Skills

Outdoor Adventure Workshop
This workshop entitles leaders to be able to do outdoor activities with their troop including a day hike, outdoor games and nature activities, and basic outdoor cooking on a fire. The workshop will NOT entitle leaders to tent camp or sleep out-of-doors in cabins or shelters. This is NOT a prerequisite for the other outdoor courses.

Basic Outdoor Living Skills (BOLS)
Prerequisite: none
Fee: Optional book may be purchased at the training or The Mountain Top Shop for $9.50.
For people who plan to take girls hiking, camping or cooking outdoors, this course will train participants in safely introducing girls to hiking, fire building, meal preparation, beginning safety, knot tying, map and compass reading, the natural environment and ecology. This course also provides experiences in shelters, overnights, first aid, ropes, and an understanding of the ecosystem.

Advanced Outdoor Living Skills (AOLS)
Prerequisite: Basic Outdoor Living Skills
For people who plan to take girls winter or wilderness camping. This course covers leading trips of two or more nights where the group may be generally away from immediate emergency help. Skills taught will include: how to teach children not to get lost, sanitation, first aid, camp stoves, tools & knots, map & compass, and minimum impact camping. 

Facilitating Adult Learning
This course prepares adults to offer council specific course offerings, focusing on "how" to deliver a learning session to a group of adult learners.  This course is part of the process to become a GSGWM Facilitator. This course is taught in 2–3 hour sessions with an opportunity for participants to practice teach at the second session.