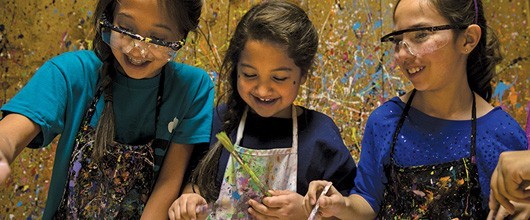 Series
We know you've got a lot going on—soccer practice, band rehearsals, drama club meetings and, oh yeah, that little thing called school. It all keeps you super busy, 24/7.
So we came up with a way for you to create your own Girl Scout experience, one that fits your interests and your schedule.
Series are short-term programs that run for all or parts of the year. Any registered girl who is the correct age for the program can participate regardless of other ways they participate in Girl Scouts. Let us know if you have an idea about a Series you would like to see!

There are tons of fun things to do in Girl Scouts—and now it's easier than ever to work them into your super-charged life.

---
Astronomy   
It's a big universe – learn all about it! Soar to the stars on a secure website with educational materials, visit local astronomy events and attend workshops from around the council, and meet professional and amateur astronomers who will help you learn even more about the wonders of astronomy. 
To participate, log in to MYGS and join the Astronomy troop.
---
Coastal Rompers   
Coastal Rompers are older Girl Scouts devoted to marine education and conservation. When first organized in September 1996, Girl Scouts of middle and high-school age were already training to deliver a tide-pooling oriented program (Discovery Weekend) to younger Girl Scouts. Joining Coastal Rompers offers older Girl Scouts opportunities to engage in activities with their peers, including visiting aquariums, marine laboratories, and exploring beaches and intertidal pools. As a community service project, each year this group directs other Girl Scout troops/groups and adult volunteers in beach clean-ups in the fall.

Coastal Rompers currently lead Discovery Weekend (camping at Camp Seawood) and Trees, the Sea, and Me (at the Urban Forestry Center). They also serve as tide pooling guides for Girl Scouts near and far, guiding groups of Girl Scouts from all over the US for Girl Scout councils outside of NH and VT.
To participate, log in to MYGS and join the Coastal Rompers troop.
---
Crazy for Canines   
For all girls whether you own a dog or other critter or not!  This group is supported by the NHSPCA. Girls will create a schedule for the year at their first meeting. Possibilities include working at an agility trial and attending the Thanksgiving Cluster Dog Show the weekend before Thanksgiving. 
To participate, log in to MYGS and join the Crazy for Canines troop.
---
Farnsworth Paddlers   
Join our brand new paddling team! Learn all the basics of paddling and even try out a competition. No canoeing experience necessary.
---
FIRST LEGO League   


FLL challenges kids to think like scientists and engineers.  During FLL WORLD CLASS, teams will build, test, and program an autonomous robot using LEGO MINDSTORMS to solve a set of missions in Robot Games.  They will also choose and solve a real-world question in the Project.
Learn more by registering for an information session under our Activities tab, or contact Customer Care at customercare@girlscoutsgwm.org.
---
Junior FIRST LEGO League   
Jr. FLL captures young children's curiosity and directs it toward discovering the wonders of science and technology. This program features a real-world scientific concept to be explored through research, teamwork, construction, and imagination. Guided by adult Coaches, teams use LEGO® bricks to build a model robot that moves and develop a Show Me Poster to illustrate their journey.
Learn more by registering for an information session under our Activities tab, or contact Customer Care at customercare@girlscoutsgwm.org.
---
Girl Advisory Board   
As part of the Girl Advisory Board, girls are able to give input as to what they would like to see offered in our council, share their opinions with our CEO and staff, help plan events, and make an overall difference in our council.
Girl Advisory Board Application
---
Girls Rock the Capitol   
Every year Girl Scouts of the Green and White Mountains invites girls ages 15 - 18 to join our Girls Rock the Capitol Program as interns! Girls work side-by-side with female state legislators in Vermont and New Hampshire to get a behind-the-scenes look at state government, learn about advocacy, and how to enact change in the world. Interns must be articulate, mature, and interested in advocacy or political service. Interns must be able to fully participate on all State House days, as well as training and evaluation. This commitment includes, but is not limited to, a fall weekend training session, an overnight at the state capitol, and attending legislative sessions. Applications are due by October 30. Interviews will be conducted the first week of November.
2018-2019 Girls Rock the Capitol Application

---
Jump-In   
Jump-In is a week-long jump roping series for girls K-5 coached by trained teens and supervised by adult coordinators. Grab your sneakers and try seven different types of jumping! Register online under our Activities tab.
Jump-In coaches are girls who will be entering grade 6 in the fall of 2018 and older. You must complete Program Aide training and 3 coach trainings (1 if a returning coach) to be considered to coach over the summer. Application is  below.
---
Media Mavens   
Through a series of guest speakers, girls will learn about all different types of media and then be able to cover many of our Girl Scout events. See your name in print, tweet to the world, be the behind the scene photographer, it's up to you. Each girls journey in this series will be different! Girls will be grouped to work with other girls of the same age group on projects.
To participate, log in to MYGS and join the Media Mavens troop.
---
Pursuits   
Designed for girls who seek high adventure opportunities and would like to design and lead younger girls in all things outdoors! Coordinate activities such as hikes, geocaching, and outdoor cooking for younger troops, while enjoying adventures of your own such as high ropes, kayaking, and camping.
To register, please contact Customer Care.
---
Swift Water Paddlers   
Join our championship canoe-racing team! Build friendships and camaraderie while training during weekly team practices in Bedford, NH beginning in March. Then compete in two exciting races in May and June! No canoeing experience necessary.
---
Time Travelers   
We are surrounded by women's history and opportunities to explore it! In this series we will visit women's history sites around New England as well as learn skills traditionally practiced by women in the past. Celebrate the spirited, independent women who have made a significant difference in our world. Find your voice as you work with other girls to create our group schedule of activities. Develop your leadership skills by sharing these experiences with younger girls at Laura Wilder Weekend each spring and fall. Series meets throughout the school year. Schedule will be created by the girl members in the fall. To participate, join the Time Travelers troop through MYGS.
---
Sound exciting?
Contact our Customer Care team for more information on any of the Series programs listed.