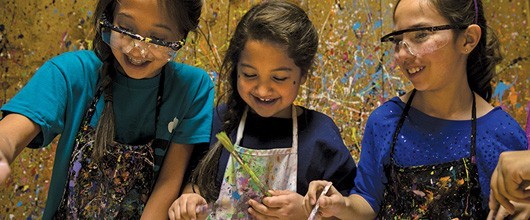 Series
We know you've got a lot going on—soccer practice, band rehearsals, drama club meetings and, oh yeah, that little thing called school. It all keeps you super busy, 24/7.
So we came up with a way for you to create your own Girl Scout experience, one that fits your interests and your schedule.
Series are short-term programs that run for all or parts of the year. Any registered girl who is the correct age for the program can participate regardless of other ways they participate in Girl Scouts. Let us know if you have an idea about a Series you would like to see!

There are tons of fun things to do in Girl Scouts—and now it's easier than ever to work them into your super-charged life.

---
Astronomy Club   
It's a big universe – learn all about it! Soar to the stars with educational materials and astronomy events both virtual and in person with COVID-19 guidelines. Meet professional and amateur astronomers who will help you learn even more about the wonders of astronomy. 
To participate, log in to MYGS and join the Astronomy troop.

---
Canoe Team: Paddlers   
Join our championship canoe-racing team - no canoe experience necessary! Learn the basics, try a competition, explore sprints, relay teams, white water, in-water canoe switches and build lifetime friendships! Lead a booth activity at G.I.R.L. Expo and lead a workshop at the Older Girl Conference in September. 

Canoe practices March - May and competes in the Great Smith River Regatta in New Hampshire in mid May and the General Clinton Regatta in New York in late May as team decides.
Kettleford Registration
Farnsworth Registration
---
Coastal Rompers   
Coastal Rompers is a Girl Scout troop devoted to marine education and conservation.  Since the fall of 1996, when the group first organized, Girl Scout has been training girls in middle school and high school to lead Discovery Weekends, a program to introduce younger Girl Scouts to the world of tide-pooling. Coastal Rompers provides older girls with opportunities to participate in marine-related activities with their peers, including visiting aquariums and marine laboratories, and exploring beaches and intertidal areas.  As a community service activity, Coastal Rompers and adult volunteers participate in beach cleanups.
Discovery training introduces the concept of teamwork, as trainees work together to set common goals and anticipate issues to be dealt with.  More experienced and mature Coastal Rompers train new members.  Coastal Rompers then augments this training by conducting field trips, much enjoyed by the membership. They visit aquariums, sandy beaches, rocky shores, and tidal creeks; explore the tide pools at Odiorne Point; sail on a restored gundalow; and offer a research vessel cruise to Shoals Marine Laboratory – the largest field marine station devoted to undergraduate marine studies in North America, only six miles off the New Hampshire mainland shore.  Coastal Rompers are, for the most part, hands-on and in the field.
Coastal Rompers Discovery Aide Registration
---
Community Service Club   
Practice the Girl Scout slogan, "Do a good turn daily," by participating in our new community service club!  Join to have special Girl Scout and local community volunteer opportunities emailed to you throughout the year and the ability to earn the Presidential Volunteer Service Award through our council.
Community service hours for Presidential Volunteer Service Award must be earned through the Community Service Club and must be approved by GSGWM.  Council recognition of service is provided for those actively participating in the club. 
For more information on how to register, please contact Customer Care at customercare@girlscoutsgwm.org
---
Crazy for Canines   
For all girls whether you own a dog or other critter or not!  This group is supported by the NHSPCA. Girls will create a schedule for the year at their first meeting. Possibilities include working at an agility trial and attending the Thanksgiving Cluster Dog Show the weekend before Thanksgiving. 
To participate, log in to MYGS and join the Crazy for Canines troop.
---
FIRST LEGO League   



FIRST® LEGO® League introduces science, technology, engineering, and math (STEM) to children ages 4-16 through fun, exciting, hands-on learning. Participants gain real-world problem solving experience through a guided, global robotics program, helping today's students and teachers build a better future together.
Their three divisions inspire youth to experiment and grow their critical thinking, coding, and design skills through hands-on STEM learning and robotics. Join or start a Girl Scout FIRST Lego League Team to become part of the journey. Learn more by registering for an information session under our Activities tab, or contacting Customer Care at customercare@girlscoutsgwm.org.
---
Girl Advisory Board   
As part of the Girl Advisory Board, girls are able to give input as to what they would like to see offered in our council, share their opinions with our CEO and staff, help plan events, and make an overall difference in our council.
Girl Advisory Board Application
---
Girls Rock the Capitol   
Every year Girl Scouts of the Green and White Mountains invites girls ages 15 - 18 to join our Girls Rock the Capitol Program as interns! Girls work side-by-side with female state legislators in Vermont and New Hampshire to get a behind-the-scenes look at state government, learn about advocacy, and how to enact change in the world. Interns must be articulate, mature, and interested in advocacy or political service. Interns must be able to fully participate in State House days as well as training, evaluation, program events, and regular check-ins with the program leader and the other participants. This commitment includes, but is not limited to: the fall retreat training session on December 7, 5 legislative sessions, the Learn to Lead: Girl Legislative Day in May, and a final retreat in June (date TBD). See the application for more details.
Applications are due by October 31. Interviews will be conducted the second week of November.
2019-2020 Girls Rock the Capitol Application

---
Jump-In   
Hop, skip, and jump into fun! Try a new kind of jump roping every day (long rope, Double Dutch, partner, tinikiling, and more!) while you dance, play games, and make new friends. This weeklong series is for girls K-5, coached by teens and supervised by adult coordinators. Jump-In Week is July 13-17, 2020, at Camp Twin Hills in Richmond, VT. Register online under our Camp tab.
Jump-In coach training takes place July 6-17, 2020, at Camp Twin Hills in Richmond, VT. Coaches spend the first week training as coaches and the second week leading a group of Jump-In girls. You will work with Jump-In campers part of the day, and spend the entire day at camp. Optional bus transportation to and from camp.
Jump-In coaches are girls who will start grade 6 in the fall of 2020 and older. You must complete Program Aide training to coach over the summer. Application is below.
---
Media Mavens   
Through a series of guest speakers, girls will learn about all different types of media and then be able to cover many of our Girl Scout events. See your name in print, tweet to the world, be the behind the scene photographer, it's up to you. Each girls journey in this series will be different! Girls will be grouped to work with other girls of the same age group on projects.
To participate, log in to MYGS and join the Media Mavens troop.
---
Trailblazers - Glaciers to Girl Scouts   
 Love the idea of exploring the outdoors, trying new outdoor skills, learning outdoor naturalist lore and teaching it to younger Girl Scouts? Learn leadership and outdoor skills from Vermont Master Naturalists. Lead workshops at G.I.R.L. Expo and the Older Girl Conference in September. Lead local programs with the help of local naturalists and outdoorswomen. Program Aide training is required.
---
Time Travelers   
We are surrounded by women's history and opportunities to explore it! In this series we will visit women's history sites around New England as well as learn skills traditionally practiced by women in the past. Celebrate the spirited, independent women who have made a significant difference in our world. Find your voice as you work with other girls to create our group schedule of activities. Develop your leadership skills by sharing these experiences with younger girls at Laura Wilder Weekend each spring and fall. Series meets throughout the school year. Schedule will be created by the girl members in the fall. To participate, join the Time Travelers troop through MYGS.
---
Sound exciting?
Contact our Customer Care team for more information on any of the Series programs listed.